Plastic Wire Drawing Machine for Rope/Broom/Net/Brush Filament Production Line
2021-08-22
Screw Size:
Sj 75/33 Single Screw
Dimeter of Filament:
0.01-3mm
Application of Final Product:
Rope, Fishing Net, Rinse Mop,Shade Mesh, Brush,
Color:
According to Customer Requirement
Trademark:
ZHUOYA MACHINERY
Transport Package:
Seaworthy Package
Plastic Wire Drawing Machine for Rope/Broom/Net/Brush Filament Production Line

Main features:

1. Most experienced manufacturer: Professional and mature technology in few manufacturers in China
2. Green and Eco-friendly: 
100% recycled PET bottle scraps for PET filament
3. Machine Development
: Improvement and feedback from Customers all around China and the world
Description of PET filament drawing machine 
 
1. PET filament drawing production machine is for industrial or civil use to produce plastic round yarn monofilament  with recycled PET material to replace PP filament with lower cost and better performance of  beautiful apperance and durable using function.
 
2. This machine produce many different sizes of plastic fiber filament for industry and civilian use, the fiber mainly uses for plastic twine, plastic broom and brush, fishing rope, fishing net , paint brush etc.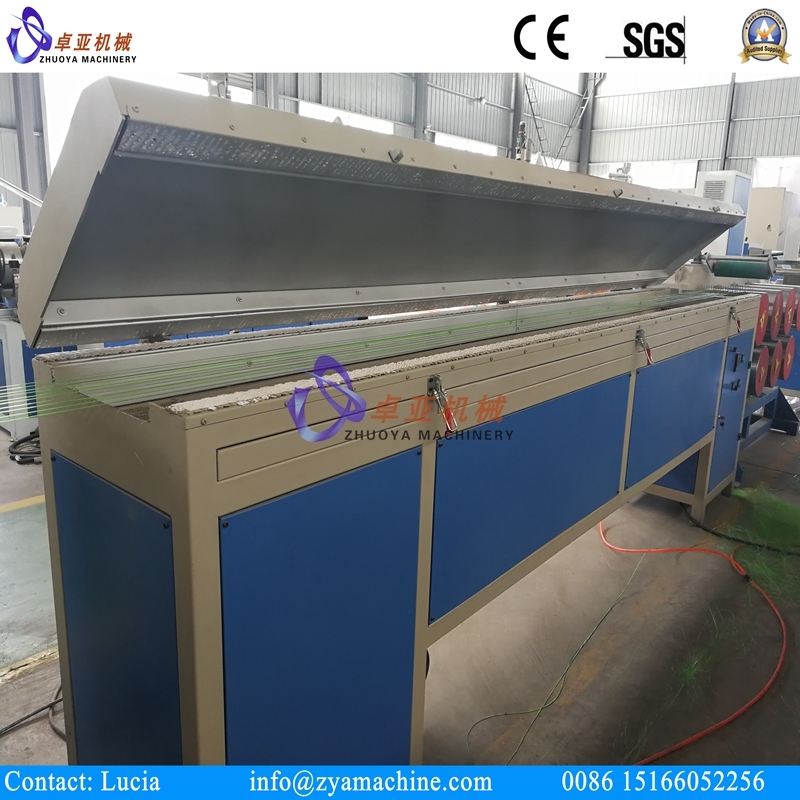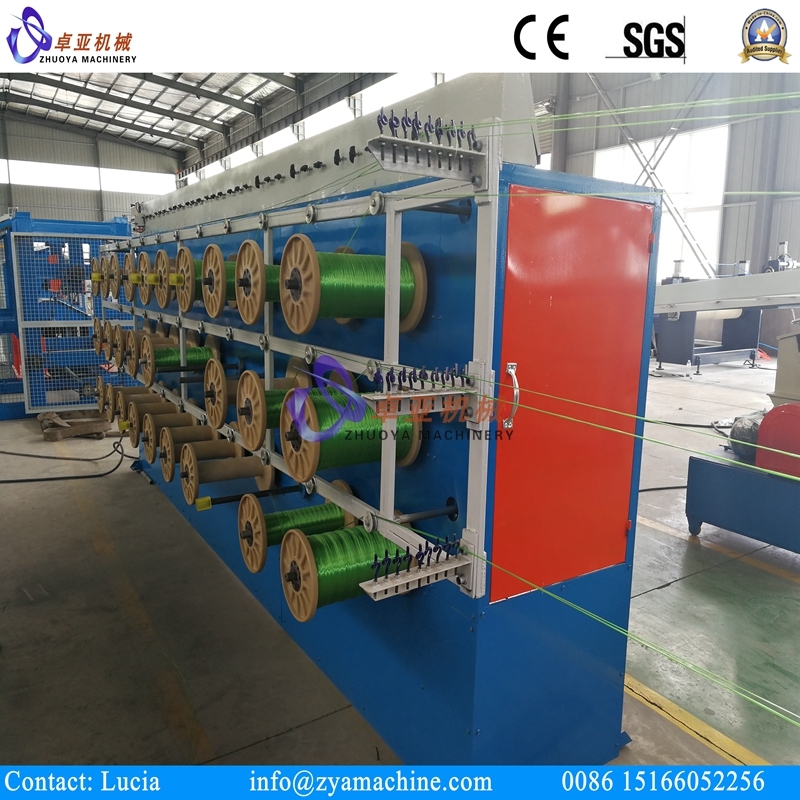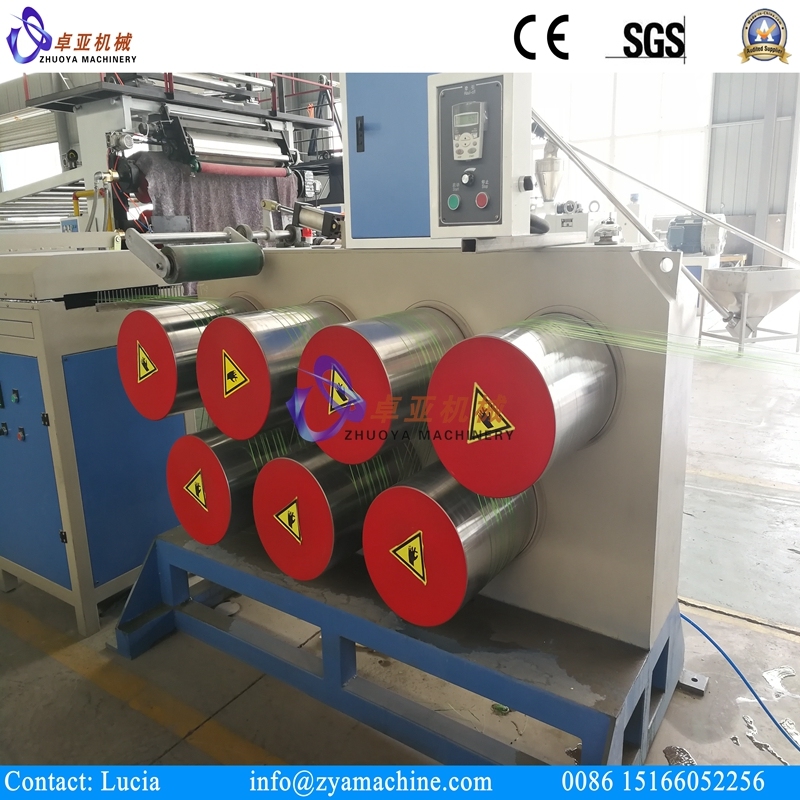 Equipment List of PET wire drawing machine.
 
| | | |
| --- | --- | --- |
| No. | Name  | Quantity |
| 1 | SJ75/33 single screw extruder | One set  |
| 2 | Die head | One set  |
| 3 | Water-cooling tank | One set  |
| 4 | First tensile machine | One set  |
| 5 | Pre-heating machine | One set  |
| 6 | Second tensile machine | One set  |
| 7 | Third tensile machine | One set  |
| 8 | Oil bath tank  | One set  |
| 9 | Pneumatic tensioner | One set |
| 10 | Two position winder | One set |
Electrical Configuration:
1) Main motor frequency controller: ABB
2) Temperature controller: OMRON
3) AC contactor: Siemens
4) Thermal overload relay: Siemens
5) Breaker: CHINT or according to customer requirement
Advantage of ZHUOYA Filament Machine:
1. 20 lines every year going to domestic and oversea market.
2. Machine running in the workshop for visiting at any time.
3. Vast experience and suggestion from customers practical operations in about 20 countries.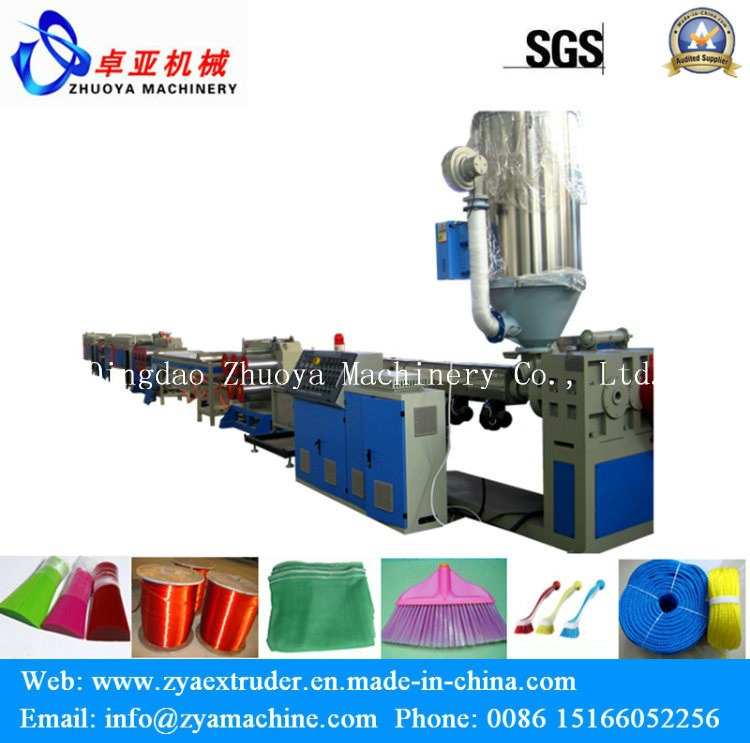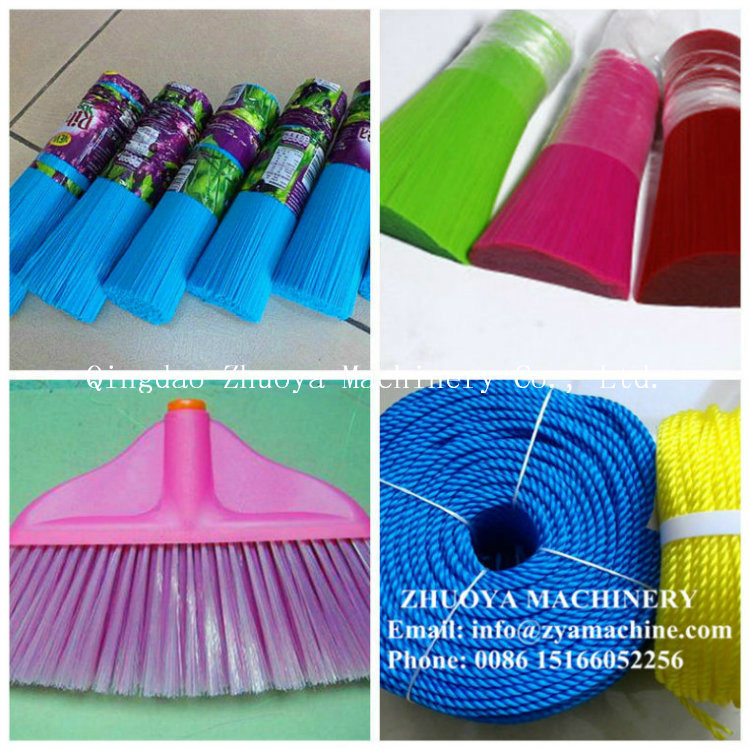 Our Service:
1. 
Pre-sale service:
To provide market research information and consultation
To help customers make project planning and systematic analysis
To maximize customer's satisfaction
To achieve the mutual benefits of our customers and our company
2. After-sale service:
To install products and test products for customers
To provide the formulas and technologies of relevant products and the information of chemical materials manufactories
To provide technical direction according to customers' requirements
To provide technical training for clients' employees
To be responsible for maintenance service, door-to-door service under necessary circumstance
Company Introduction:
Qingdao Zhuoya Machinery Co., Ltd is a science & technology-intensive corporation integrated with advanced processing equipment, strong technical innovativeness and the detection means. Zhuoya has its own new product development and test workshop, long-term cooperation with a number of research institutions, study on abroad advanced plastics processing technology, aiming at creating plastic extruder machine of a high degree of automation and high-performance.
 
The most featured products include PET / PP filament drawing extrusion machine, PVC (WPC) foam board extrusion line, PVC free foam board extrusion line, PVC artificial marble board extrusion line, PET / PP packing strap production line, PVC window and door profiles and PVC/PP/PE pipe extrusion line etc. Especially the PET/PP filament extrusion machine, which has been tested and improved numerous times, has excellent production performance and achieves an above-average level product application. Its final product is widely used as broom, brush, rope, safety net, fishing net etc. And customers from more than 10 countries like Russia, Saudi Arabia, Kazakhstan, Canada, Ethiopia, South Africa and India have adopted and fully affirmed our production line. Now Zhuoya has started manufacturing PET filament itself to service the over-demand oversea market with lower cost and more reliable products.
 
To build stable long-term business relationship with our customers, we provide quality product and circumspect service to guarantee the benefit of our customers and create win-win cooperation.  Located in Qingdao, a beautiful coastal city in Shandong Province, Zhuoya make full use of convenient land, sea and air transportation advantages and high-tech prosperity here to provide customer speed service and quality product.
 
During the past few years, Zhuoya Machinery attended Iranplas, Eurasianplas, Saudi 4P and Chinplas 2014 to 2016 with its professional and featured product---PET/PP Filament Extrusion Machine. This product line adopts advanced technology and experience from numerous tests and commissioning, and achieves excellent performance and produce high-quality plastic filament for broom, brush, safety net and rope with shinning appearance and strong performance. 
Contact Information:
Phone:+86 0532 85208866
Fax:+86 0532 85207766
Mobile:+86 15166052256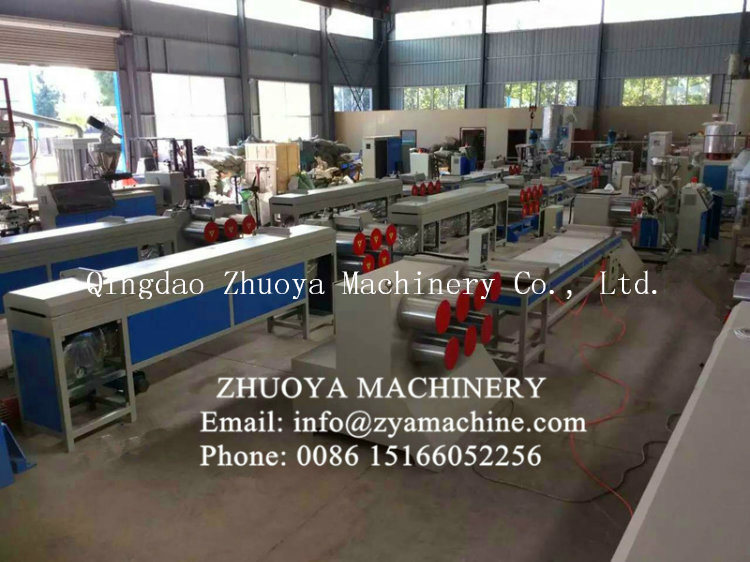 Construction safety net also called Scaffold net, Debris net,using construction net surround whole building. In the construction of multistory buildings such as skyscrapers, it is necessary to install temporary vertical safety barriers at the edges of the various floors to prevent tools and construction materials such as rods, bricks, pipes and nails from falling from the floors and endangering people and property on underlying levels, including the ground surface. Scaffolding Net is necessary for building construction.Construction building net material are HDPE,PE with UV protection. Construction Safety Net sheets main export market has Asia, Middle East,Australasia, Central/South America,Europe,Africa,North America.
Scaffold Net
,
Round Yarn Shade Net
,
Blue Debris Netting
,
Blue Scaffold Sheeting Net
ETDZ Holdings Ltd. http://www.penettings.com